Photo Golf Balls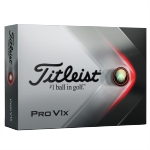 New Titleist® Pro V1x® offers total performance and features longer distance, high trajectory, low long game spin, increased Drop-and-Stop™ greenside control and softer feel.

Player Benefits

• Longer Distance with Consistent Flight
• Low Long Game Spin and High Trajectory
• Increased Drop-and-Stop™ Short Game Control
• Softer Feel

Multi-Component Technology with Performance Benefits

• Reformulated 2.0 ZG Process Dual Core Increases Distance
• Faster Casing Layer Adds Speed and Lowers Long Game Spin
• New, Softer Cast Urethane Elastomer Cover Increases Greenside Spin
• New Spherically-tiled 348 Tetrahedral Dimple Design Delivers High and Consistent Flight

Technology Features

• Softer Cast Urethane Elastomer Cover System
• Faster Low Spin Casing Layer
• Reformulated 2.0 ZG Process Dual Core
• New Spherically-Tiled 348 Tetrahedral Dimple Design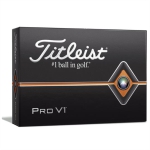 Designed for all golfers seeking to shoot lower scores, the new Titleist Pro V1 features a new patented cover formulation that delivers more short-game spin and control with an even softer feel. Combined with its already exceptional distance, long-lasting durability, unmatched consistency, penetrating trajectory, and low driver spin, the new Titleist Pro V1 provides the best fit for all golfers.

Pro V1 player benefits:
•Exceptional distance
•More short-game control
•Even softer feel
•Drop-and-Stop greenside control
•Long-lasting durability
•ZG process Core
•Ionomeric casing layer
•Softer Urethane Elastomer cover system
•Spherically-tiled 352 tetrahedral dimple design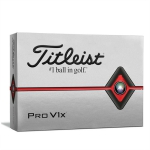 Designed for all golfers seeking to shoot lower scores, the new Titleist Pro V1x features a new patented cover formulation that delivers more short game spin and control with softer feel. Combined with its already extraordinary distance, long-lasting durability, unmatched consistency, high launch, and very low-long game spin, the new Titleist Pro V1x provides the best fit for all golfers.

Pro V1x player benefits:
•Extraordinary distance
•More short-game control
•Softer feel on all shots
•Drop-and-Stop greenside control
•Low, long-game spin
•Long-lasting durability
•ZG process dual core
•Ionomeric casing layer •Softer Urethane Elastomer cover system
•Spherically-tiled 328 tetrahedral dimple design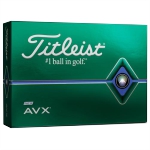 The New Titleist AVX golf ball is designed for greater ball speed and longer distance along with increased greenside spin and control with softer feel. The result is improved total performance for golfers seeking the lowest flight, lowest spin and softest feel of any Premium Performance Titleist golf ball.

The Titleist® AVX™ golf ball offers golfers an alternative to Pro V1 and Pro V1x in the Premium Performance segment with unmatched Titleist quality and consistency. AVX delivers excellent scoring control for golfers who prioritize distance and extremely soft feel with a piercing, low ball flight.
New, Larger Core Formulation Generates High Speed And Low Long Game Spin
Redesigned High Flex Casing Layer Promotes Higher Ball Speed And Lower Spin On Long Shots
New, Thinner Cast Urethane Elastomer Cover System Provides Greater Ball Speed And Greenside Spin And Control
Unique Catenary Aerodynamic Dimple Design Delivers Consistent Flight On Each Shot
Very Low Long Game and Iron Spin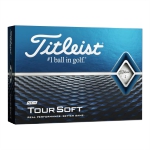 The New Titleist Tour Soft is engineered to provide golfers better performance for their game. Featuring the largest core Titleist has ever produced, Tour Soft is now faster and longer off of the tee. The larger core dimensions require the high performance 4CE grafted cover to be thinner, increasing short game spin around the green. We continue to improve our technology so you can improve your game. Trust the real performance of Titleist Tour Soft.

•Reformulated, Larger and Faster Core delivers longer distance and responsive feel
•Thinner 4CE Grafted Cover generates more greenside spin for better control into and around the green.
•Spherically-Tiled 342 Cuboctahedron Dimple Design provides a more penetrating and consistent ball flight.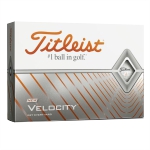 From its inception, the Titleist Velocity golf ball was designed to give you more distance. Every component of the golf ball was engineered for maximum velocity. Pushing limits even further, Titleist R&D has developed a new aerodynamics package to optimize flight and built a larger, faster core to maximize speed. These new construction advancements combine to deliver extremely low spin, longer distance and greater stoppability on approach shots. When it's time for distance, get every yard with the new Titleist Velocity.

• More consistent, high-flying trajectory for longer distance.

• Larger, higher speed LSX core generates fast initial velocity with extremely low spin on all full swing shots

• Increased core size adds spin for greater stoppability

• Fast NaZ+ Cover formulation is designed for speed and playable greenside feel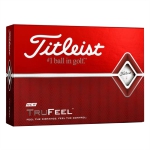 Titleist TruFeel is the softest Titleist golf ball, now reimagined with a new TruTouch core and new TruFit aerodynamics for more distance in your long game. The proprietary TruFlex cover gives you excellent control into and around the green.

• Ultra Soft Feel
• Superior Distance
• Excellent Greenside Control
• Trusted Quality and Consistency TruFeel Technology: New TruTouch Core
• The fast, low compression TruTouch core generates low spin for long distance TruFlex Cover
• The TruFlex cover is a proprietary Titleist formulation designed for very soft feelaround the green and excellent greenside control
• The new TruFit aerodynamics are designed with a symmetrically optimized pattern to enhance long game distance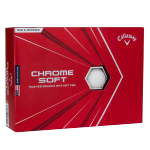 Take your game to the next level with the Tour-ready Chrome Soft golf ball from Callaway Golf. The Chrome Soft has combined a new distance-boosting core design with the feel you have come to expect out of a high-quality performance ball.

Updated Core Design
The Dual Soft Fast Core has been created to maximize distance off the driver, while reducing spin for shots around the green. The core also features a graphene layer between the inner core and cover to allow for higher levels of compression. Higher compression provides more distance, even on off-center hits.

Feel and Control
The soft Tour Urethane Cover combines with the SubMantle to provide you with a feel suitable for any professional. The cover also saves key strokes by producing the spin needed to help balls land soft from the higher irons.

Features of the Callaway Golf Chrome Soft Golf Balls:
•Dual Soft Fast Core provides high compression to increase launch and distance
•New graphene infusion allows for a high compression core with a soft cover
•Urethane cover provides shot control through high spin on chips and pitches
•SubMantle and urethane cover provide a player-preferred feel

The Callaway Chrome Soft X golf ball has been created to provide a piercing, workable ball flight without sacrificing any of the short game performance that has made it so popular.

Callaway have developed the stronger ball flight by using a combination of their HEX Aerodynamic dimple pattern and an advanced Tri-onomer mantle design that will regulate the spin on each club in the bag.

The longer clubs have less spin for more carry and the shorter clubs have more spin for enhanced feel and superior control. An ultra-thin Urethane cover helps generate exceptional high levels of short game spin that will enable you to maximise short game shot-making precision.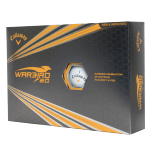 Callaway Warbird 2.0 Golf Balls For The Bomber Who Wants To Rip It Off The Tee The Warbird 2.0 golf ball reduces drag and promotes a stronger, more penetrating ball flight that cuts through the air like a jet. Only instead of a tarmac, a tee serves as its launching pad. Its destination, that's up to you, but one thing's for sure, with HEX Aerodynamics™ and a fast core, it'll fly a long, long way.
Updated for 2019, the Taylor Made TP5 Golf Ball is better than ever, with new technology to improve performance for this popular Tour ball. With a softer feel than the similar TP5x, the TP5 features a lower compression rating, less short game spin and a lower launch.

Multi-Layer Performance
With 5-piece construction from Taylor Made, the TP5 can maximize ball speed without forfeiting control from workable spin. The Tri-Fast Core used in the previous model is designed to enhance ball speed while the Dual-Spin Cover uses durable urethane for reduced drag and a soft feel.

New Innovations
The primary new technology included in the TP5 is Taylor Made's Speed-Layer System. This consists of four gradually stiffer layers to make the most of golfer head speeds for a longer carry off the tee and a straighter trajectory in the wind. Also featured in the 2019 TP5 is a brand-new material from Taylor Made called HFM (High-Flex Material). Designed to boost ball speed by increased rebound off the club and off the ground.

Features of the Taylor Made TP5 Golf Balls:
•5-piece construction Tour ball
•Lower compression and softer feel compared to TP5x
•Tri-Fast Core helps maximize carry distance
•Dual-Spin Cover uses durable urethane for a soft feel
•Distance further enhanced from Speed-Layer System and HFM

Specifications:
Construction - 3 Layers
Compression - 40
Cover - Tour Cast Urethane
Distance - Longer
Speed - Faster
Wedge Spin - High Feel - Soft

Gain effortless performance when you play the TaylorMade Tour Response Golf Balls. Engineered to respond to your game, Tour Response features a high spring core for effortless compression properties and unmatched greenside control. New SPEEDMANTLE™ Technology combined with HFMq contains more layers for advanced ball speeds. A soft, Tour Cast Urethane cover provides increased spin, softer feel and maximum durability.

Player Benefits:
Enhanced Groove Interaction for Maximum Spin Soft Flexible Material offers Better Feel Crosslinking Forms for Better Durability

Tour Technology:
High Spring Core for Effortless Compression Ultra-low 40 Compression Core for Soft Feel SPEEDMANTLE™ with HFMq offers Advanced Speed Soft, Tour Cast Urethane Cover for Tour Spin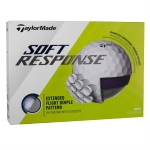 You asked, and TaylorMade responded. Soft Response was developed after surveying thousands of golfers about what they need from a golf ball. It's designed for the player seeking soft feel without sacrificing distance.br>
Features:

Soft Response
An ultra-low 35 compression Hi-Spring core gives you a softer feel while maximizing energy transfer and rebound at impact, resulting in dominant distance for the average swing speed player
Extended Flight Dimple Pattern
A shallower U-shaped dimple promotes decreased drag and increased lift, so the ball stays in the air for longer even at lower spin rates Ionomer Cover
A soft ionomer cover increases green-side feel, but also achieves improved scuff resistance, shear resistance and overall durability.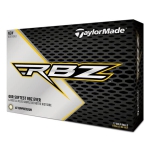 The TaylorMade RBZ Soft Golf Ball have been made from a high energy core technology that produces incredible distance from the tee and a soft, controlled feel for an improved short game. TaylorMade have used their fast REACT core which stores and releases energy for the ultimate performance through the bag. The RBZ Soft Golf Ball features a LDP 342 high-lift, low drag dimple design that maximises distance gains off the tee. The soft feel necessary for short game spin and control comes with the IONOMER cover design.

FEATURES
Speed comes from our fast REACTcore, which stores and releases energy with incredible efficiency
The long carry comes from our LDP 342 high-lift, low-drag dimple pattern that launches high and sustains flight
The soft feel comes from our proprietary IONOMER® cover design to feel like it melts against the clubface at impact
60 Compression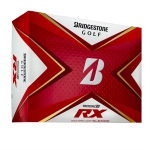 Bridgestone offers a golf ball for every player type. The new Bridgestone TOUR B RX is the perfect combination of both distance and spin. Before the introduction of this golf ball, players had to decide if distance or high spin meant more to their game. Luckily Bridgestone has solved this problem with their new REACTIV cover.

Great Distance with Plenty of Spin

This is a three-piece golf ball with a core compression of 66. The Bridgestone TOUR B RX golf ball will work best for the player who swings slower than 105 miles per hour. Low to mid-handicap players will be able to appreciate the feeling that this golf ball offers. Getting a ball that will stop on a green while also providing enough spin for long distance off the tee can be a rare find. Luckily this Bridgestone Tour B RX offers it all.

The latest release of the Tour B RX has a new REACTIV cover that is a bit firmer than the previous models. This firmer cover leads to slightly lower spin but more accuracy.

Features of Bridgestone TOUR B RX Golf Balls:
Compression of 66
For swing speeds less than 105 mph
Distance ball with plenty of spin
Dual Dimple technology for aerodynamic drag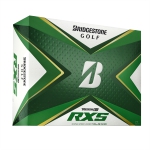 The Bridgestone TOUR B RXS was designed for golfers looking for the ultimate in greenside control. This is a golf ball designed for the low-to-mid handicap player looking for distance off the tee but needing control and feel around the greens. If you are someone looking to stop and spin the ball from 100 yards in, this is the golf ball for you.

REACTIV Cover Technology

The new REACTIV Cover in the TOUR B RXS allows players to still have soft feel without having to give up distance off the tee. Softer than previous models getting the desired spin around the greens is now attainable. With a core compression of 64, this golf ball works best for people with swing speeds less than 105 mph. The new SMART urethane technology will help determine the force of the hit and deliver the correct amount of spin.

All-New 338 Dimple Pattern

The brand new 338 dimple pattern will help increase both consistency and forgiveness. Tour professionals stand behind this ball as being a perfect option for getting the critical shots to stop where you need them.

Core Compression of 64
Designed for the low-mid handicap golfer
More greenside control and spin
Great distance off the tee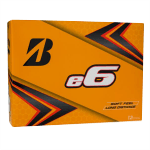 Switch to the e6 SOFT and feel what it is like to gain accuracy, distance, and a decisive advantage over the competition.

The e6 SOFT is a high-performance ball with a soft feel. It is designed to produce low driver and long iron spin for incredible straight distance. The advance mantle and cover work together to provide incredible approach and greenside performance.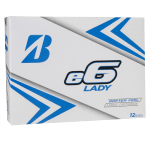 The Bridgestone e6 Lady white golf balls have been updated to give golfers long distance with an even softer feel.

Softer than Bridgestone's normal e6 ball, the e6 lady features 2-piece construction and a low compression inner core. Ideal for golfers with medium head speeds, the e6 lady helps create longer distance from any shot. Extra distance is created from reduced side spin and a high launch.

Features of the Bridgestone e6 Lady white Golf Balls

2-piece construction
Graduated low compression core
Low spin and high carry
Softer than standard e6 golf ball.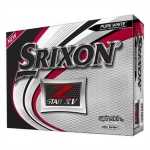 Z-Star XV Golf Balls

Srixon has updated their premium 4-piece tour quality ball, the Z Star XV, to even further increase its long distance and control performance using a FastLayer Core, Spin Skin Technology, and a 338 Speed Dimple pattern.

Increased Speed and Spin
The Srixon Z-star XV contains a new FastLayer Core designed to fully utilize players head speeds for long distance. By using an extensive system of layers, the core is softer in the center and firm towards the outside. This allows maximum compression without sacrificing a high-quality soft feel.

For improved spin and control, the Z-Star XV uses Srixon's updated Spin Skin with a unique urethane coating that drastically increases flexibility to allow for higher interaction with club grooves to provide stopping power on the green. For a low drag and high lift ball flight, the Z-Star XV's 338 Speed Dimple pattern helps ensures shots fly straight even during higher wind.

Features of the Srixon Z Star XV Golf Balls:
•4-piece tour golf ball
•Updated FastLayer core maximizes distance with a soft feel
•New Urethane Spin Skin drastically increases spin for higher control
•338 Speed Dimple pattern maintains a straight trajectory with high lift test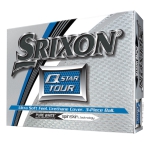 While it carries the Q-STAR name, this is a completely new offering for Srixon. Brunski says it's a Tour-level ball for better golfers with slower swing speeds.

"There's a lot of golfers out there who fit that description," says Brunski. "It's a lower compression core with the same manufacturing process as the Z-STAR – some people say it could be called the Z STAR Soft – but the reality is this ball is designed for those people with a little bit lower club head speed, and who still need that tour caliber greenside spin performance."

What's refreshing is that Srixon freely admits the Q-STAR TOUR is not the longest ball in its category.

"The way Srixon golf balls are designed is to really deliver total performance and balanced performance, without compromising any particular aspect of performance. With the Q-STAR TOUR, and really all of our golf balls, we want to make sure we're offering balanced performance that would help golfers with all aspects of their game." – Jeff Brunski

What that means is that Srixon is giving you what it says is a ball that gives your Tour-level performance around the green and enough distance off the tee for roughly the same price as your better 2- or 3-piece ionomer-cover distance balls.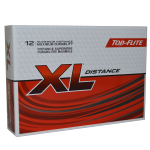 Leave the lay-ups behind and step up to long distance while playing Top Flite XL Distance Golf Balls. Designed to make your game big and your shots soar, XL Distance Golf Balls feature Distance Dimple Technology to enable high, fast launch. The High Resiliency Core construction optimizes compression at impact for elevated ball speeds and distance. A reformulated cut-proof Ionomer cover enhances durability while minimizing spin for greater accuracy.

Features:
Designed to make your game big and your shots soar through legendary distance and durability
Distance Dimple Technology enables high, fast launch for exceptional playability and performance
High Resiliency Core construction optimizes compression for elevated ball speeds and distance
Reformulated cut-proof Ionomer cover minimizes spin while enhancing durability
2-piece construction enhances ball flight and distance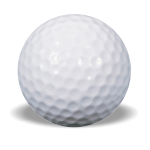 Generic blank 2-piece construction golf balls white, no manufacturer name on the ball. Bright white cover, allowing for superior imprint quality. Bulk packaged. We also offer clear plastic boxes (one ball per box or 3 balls per box).